Categories
In order to organize your data more easily, Kairon4 provides the possibility in the data entry dialog to create any number of categories.
With the yellow circled button the categories can be switched on and off, by clicking on the green circled tab they are also visible.
Classify into categories
First select a horoscope, then mark all the categories in which the horoscope should appear. Continue until you have all the horoscopes where you want them. A horoscope can appear in any number of categories.
Delete records
To delete a horoscope, please select the horoscope and click below the list of horoscopes on [-] and then confirm the dialog by clicking on "Delete" (or "Keep" if meanwhile you changed your mind).
Deletion cannot be undone.

Multiple selection is possible when deleting, in such a case all selected horoscopes will be irrevocably deleted after confirming the dialog box.

If you want to delete all horoscopes in a category, the easiest way is to select a single one of the horoscopes and then choose Cmd-a before clicking on [-]. Do not just delete the category, otherwise the horoscopes will no longer be visible, but will still occupy the storage space.
Editing categories
In the selection list to the right of the atlas you can create, rename and delete categories.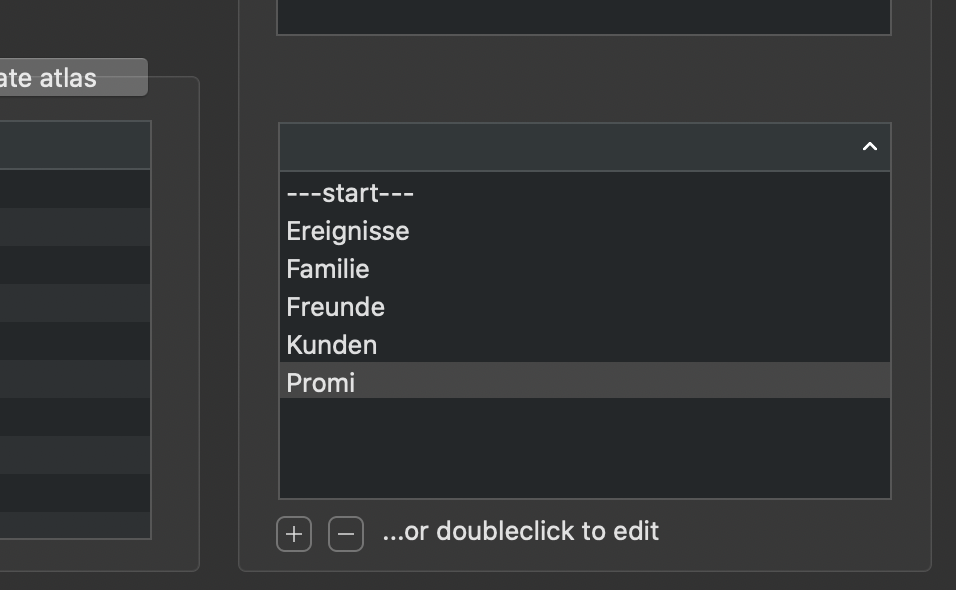 Create a New Category
Click on [+] and then rename the category.
Rename a category
Categories can be edited by double-clicking. You can then write the desired name directly in the list.
Delete a category
Select the category you want to delete from the list below and then click on [-]. Please make sure that you first assign any horoscopes in this category to one or more other categories so that they are not lost.