Kairon4 enables easy handling of the asteroids offered by astro.com. You can choose from a list of over 11,000 asteroids. Once selected, the associated ephemeris is automatically loaded and installed by the server so that the position of the selected celestial body can be calculated.
Add and Activate
Use the framed button to open the Objects dialog and click on "Asteroids":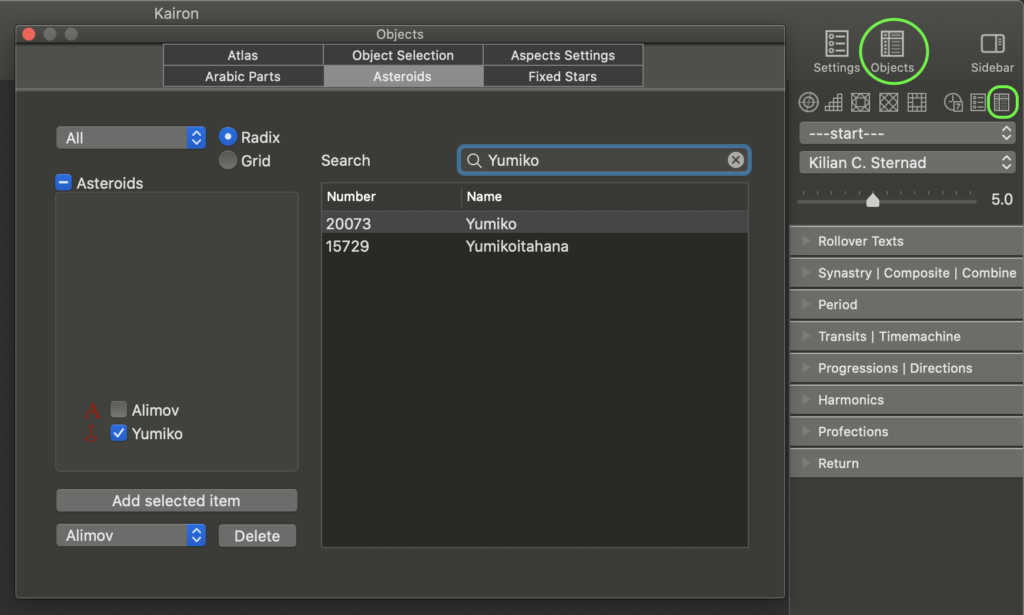 When an asteroid is added for the first time, its ephemeris file is automatically downloaded and installed from ftp.astro.com. To be able to access this file, Kairon4 MUST be in the "Applications" folder.
Only by clicking its checkbox is the asteroid really activated. You can check this live – it appears and disappears again immediately from every displayed graphic, such as the horoscope view.
You can easily see if an ephemeris has not been found, whenever an asteroid is displayed at position 0 ° Aries. If it is not at 0 ° Aries, everything has worked so far ?
First, an asteroid is represented by a generic symbol – in this case a capital "A". You can easily change this "A", as well as any other symbol of any other object in Kairon. For detailed instructions, please click on the following link:

https://kairon.at/Kairon4/symbole-zuweise/